Whether you're leaving for work or a quick trip to the store, getting those sad, puppy-dog eyes from your dog as you head for the door is enough to rip your heart out. But in addition to that tinge of guilt, leaving your dog alone in a quiet house can cause them to suffer from major anxiety, which can lead to destructive behavior and other troublesome issues.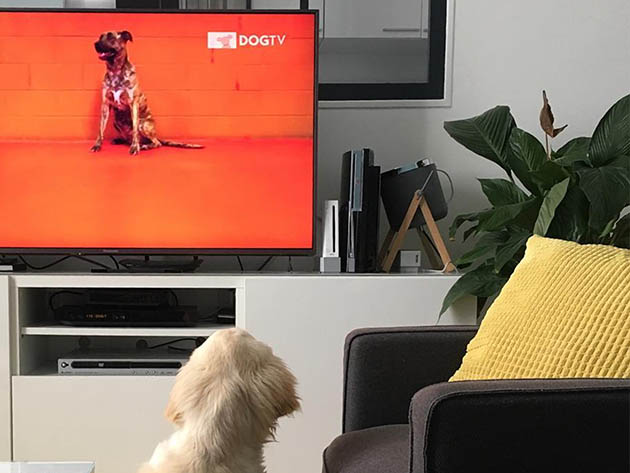 If you want little Fido to experience a full, enriched life, engaging with their senses is a great way to keep them happy and healthy. And flipping on something like DOGTV will do exactly that! Backed by extensive research, this TV channel made for dogs has been proven to enrich your dog's time at home, exercising your pup's vision, sense of smell, and sound.
Whether you have to be away from home or simply don't have time to play with your pup at the moment, DOGTV, which is available 24/7, can get your doggo's tail to start wagging in no time. Thanks to expertly altered visuals to match the way your dog sees color, along with special sounds and images, canine viewers will experience less anxiety, significantly lessening the chance of destructive behavior.
Recommended by pet experts and veterinarians alike, DOGTV is changing the way dogs hang out at home. But if you're still on the fence about whether or not your pup will get anything out of this dog-friendly channel, check out what real users are saying about it online!
"The first time I turned it on, everybody stopped what they were doing and laid down to watch…it's a great way to keep their brains occupied when they are no longer interested in whatever toy they've got, or when they are done chewing up their beds for the millionth time." – K.
"Since [my dog's] my spastic puppy who never sits still, I considered this a minor miracle." – BunGirl
"My bird and dogs love this. I have a camera I check in on them and they will be laying on the couch watching this." – Coolguyfo
For a limited time, you can get a lifetime subscription to DOGTV for just $199.99, over half-off its regular price.
Prices subject to change.
The Daily Caller is devoted to showing you things that you'll like or find interesting. We do have partnerships with affiliates, so The Daily Caller may get a small share of the revenue from any purchase.