There are lots of things to look forward to this summer, from camping trips with the family to afternoons spent out by the pool. But with all these fun activities comes some scorching temps, leaving you no other option but to blast your air conditioner and dread upcoming electric bills.
If you want to save on energy but still stay cool during the hottest months of the year, this EvaChill Personal Air Conditioner is just the gadget for the job. The newest model from Evapolar, this genius device lets you enjoy a cold blast of air from just about anywhere, whether you're laying in bed or sitting at your desk at the office.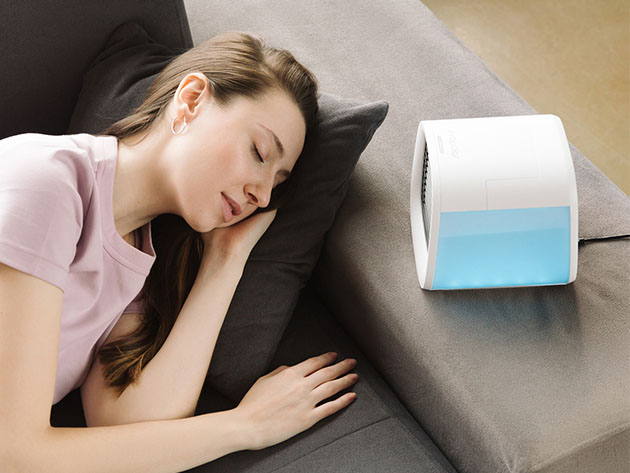 The secret to EvaChill's magic cooling power lies in its patented EvaBreeze® material that efficiently provides you with cold air while remaining eco-friendly and biosafe. And while this thing is small enough to fit on your nightstand or kitchen counter, it packs a powerful punch, capable of reaching 59ºF in 10 minutes or less.
In addition to its cooling power, the EvaChill also makes the surrounding air safer to breathe, filtering out dust and allergens, making it a great everyday cooler and sleeping aid. The EvaChill also comes complete with a replacement cartridge that's 100% inorganic and made of a mineral compound that's entirely biodegradable. It also prevents the growth of mold and bacteria, making the EvaChill incredibly safe to use around your home all year round.
From its efficient cooling effects to its pleasant exterior LED lighting, there's a lot to love about the EvaChill personal air conditioner. That's why it's no surprise the device has earned hundreds of positive reviews online, praising it for its portability and "incredible cooling power."
For a limited time, you can get your very own EvaChill EV-500 Personal Air Conditioner + Cartridge for just $99 bucks — that's just over 20% off its regular price.
Prices subject to change.
The Daily Caller is devoted to showing you things that you'll like or find interesting. We do have partnerships with affiliates, so The Daily Caller may get a small share of the revenue from any purchase.