Former New Orleans Saints quarterback Drew Brees doesn't intend on ever playing football again.
The legendary NFL passer retired after this past season, but there's always chatter about guys returning to the game that made them famous. (RELATED: David Hookstead Is The True King In The North When It Comes To College Football)
View this post on Instagram
Well, it's not happening, and he completely ruled it out in a recent interview for Peter King's Football Morning in America.
In today's FMIA column @nbcsports, you'll find:
🇯🇵 @miketirico reports from Tokyo ahead of @NBCOlympics
😎 (I'm back from vacation next Monday)
🧐 @drewbrees' next NFL chapter
🏈Japan's football connection
💥 A #StanleyCup repair, a @tombrady haiku & morehttps://t.co/b1itsOkYqo pic.twitter.com/BYX6h9yTZJ

— Peter King (@peter_king) July 19, 2021
Brees told Mike Tirico the following when asked if he'd return if the Saints needed him:
I better get my butt going if that's the case. There is a saying that if you don't use it, you lose it. That's the truth, my arm is killing me because I haven't been training to throw. I actually feel worse now than at any other point in my career. I may have one throw, one series, one drive.
When talking about his future and joining NBC as an analyst, Brees said the following:
I have been preparing for the next chapter, I'm excited about it. There is a feeling of gratitude and appreciation for all that the game gave me. I still have a chance (at NBC) to be connected with the game and stay involved, but I am excited to be able to pursue some other passions that I haven't been able to up to this point.
I'm not sure anyone thought Brees was ever going to play again, but it seems obvious to anyone with eyes that it won't occur.
Brees' arm strength noticeably declined by the time he decided to hang his cleats up. Every fan who loves the Saints knows I'm correct.
He just wasn't the same player anymore, and it was time for him to retire.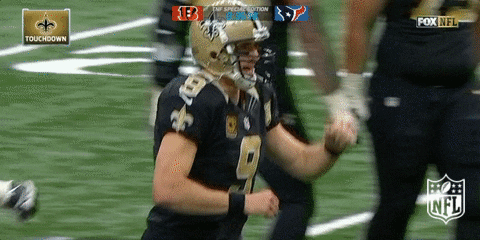 The other reason he has zero incentive to return is the fact that he has a job on NBC talking about football. If you can make money on football without having to get hit, then you're in a great position.
"I want to be able to look back with incredible memories and knowing that I gave it my absolute best." –@drewbrees on his decision to retire from the NFL after 20 seasons pic.twitter.com/R8AuAGdC6T

— TODAY (@TODAYshow) March 15, 2021
Brees had an amazing career, won a ton of games, earned himself a Super Bowl and it's not time for the next chapter. I have no doubt that he'll do an outstanding job for NBC.