Paul Finebaum thinks Michigan shouldn't wait to fire Jim Harbaugh.
The head coach of the Wolverines is on the hottest seat in all of college sports, and there's a very good chance this is his final year with the team. (RELATED: David Hookstead Is The True King In The North When It Comes To College Football)
Finebaum doesn't think the program should wait to get rid of him. During a Friday appearance on ESPN, the famous college football pundit pushed for the Wolverines to terminate Harbaugh right now "instead of waiting for November."
View this post on Instagram
As much as Michigans might not want to admit it, there's a very real chance this season turns into a disaster for them.
The Wolverines have games against Washington, Wisconsin, Indiana, Penn State and Ohio State, and they could lose every single one.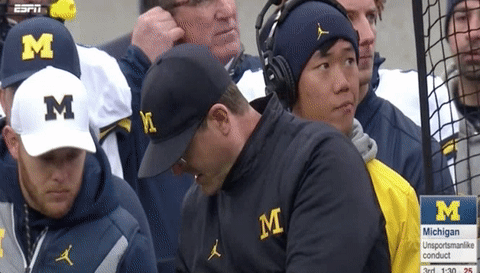 Going 7-5 isn't just on the table. It's a very likely outcome, and that's if Michigan wins every game it's favored in, which is obviously far from a guarantee.
Harbaugh's time in Ann Arbor is rapidly nearing an end, and that's just a fact. You might not like it, but it's true.
Short of Michigan winning at least nine regular season games, I think you can bet the house on Harbaugh being fired or resigning. This story doesn't have a happy ending for the pro-Harbaugh crowd. That much I can guarantee you.