More than half of Americans believe that President Joe Biden is not "mentally sharp" and is not a "good role model."
Biden is facing uphill challenges — on a number of fronts — according to a new survey by Pew Research Center, which surveyed 10,371 adults on the Center's nationally representative American Trends Panel from Sept. 13-19. The poll has a margin of error of +/- 1.6 points. (RELATED: POLL: Less Than Half Of Americans Say Biden Is Mentally Stable Enough To Serve As President)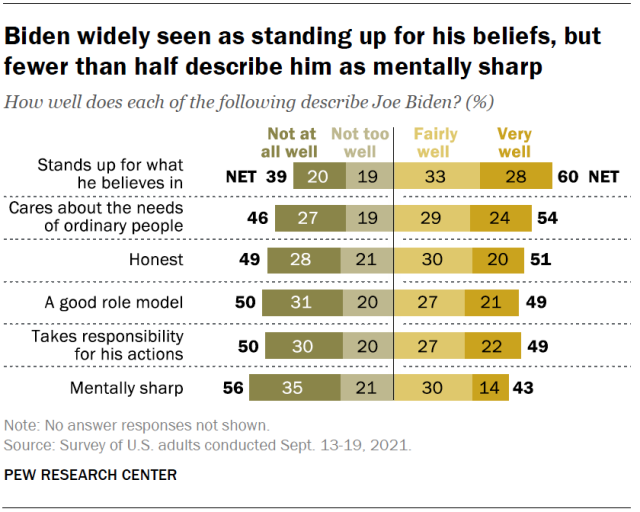 A majority of those polled (60%) believed that Biden stood up for what he believed in and 54% said they believed he cared about what was going on in the lives of ordinary people. Just over half (51%) believed that Biden was honest.
Biden appeared to struggle in other areas, however, as 49% said that they did not see the president as a "good role model" or as someone who was willing to take responsibility for his own actions. Only 43% agreed that the phrase "mentally sharp" described Biden as "fairly well" or "very well."
Several other poll questions indicated shakey areas for the Biden administration, including one of his key campaign platforms — a promise to unify the American people.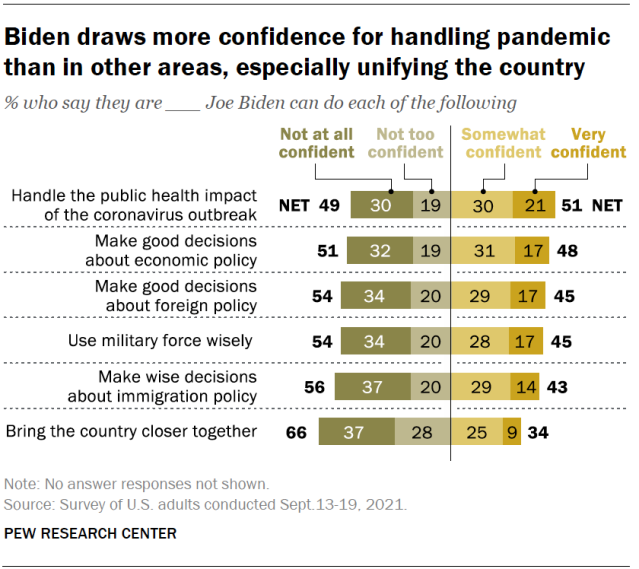 While over half (51%) of those surveyed agreed that Biden had done a good job handling the coronavirus pandemic, their evaluation of his performance in other key policy areas was not as positive.
Fewer than half (48%) agreed that Biden was making good decisions when it came to the economy, and only 45% thought he was making good foreign policy decisions or using military force wisely.
The numbers were even lower on other issues — only 43% said Biden was making good immigration policy decisions and barely one-third (34%) believed he was succeeding in bringing the country closer together.