Two new — but very different — books I'm reading provide insight into the presidency and life of Barack Obama.
Kevin McCullough was the first national pundit to predict Barack Obama would become President of the United States. I wish he had been wrong. His new book, "No He Can't: How Barack Obama Is Dismantling Hope And Change" is a well-documented account of Obama's tenure in office — so far. Despite the "red meat" title, the book avoids cheap shots, and instead provides documented facts, coupled with insightful commentary. You can listen to our full conversation with Kevin McCollough here.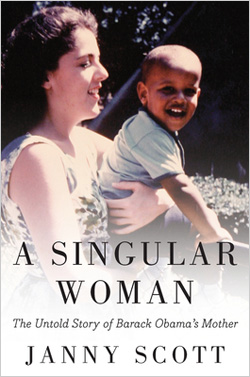 Until recently, not much was known about Stanley Ann Dunham — Barack Obama's mother. And much of what we thought we knew about her (her childhood in Kansas, for example) was wrong. Newspaper reporter Janny Scott spent years researching and writing "A Singular Woman: The Untold Story of Barack Obama's Mother" — which provides us with the best account of the woman who raised the current President of the United States. Listen to our full conversaton with Janny Scott here.