By Irwin Greenstein, Shotgun Life
On an Indian summer afternoon, the mule-drawn wagon swayed in a slow lullaby here in the cradle of the South as we followed guides on horseback in pursuit of the next quail covey to hunt.
Donalsonville, Georgia is home to Pine Hill Plantation where owner Doug Coe has fused the science of game birds and habitat management with vintage Southern plantation traditions for a dramatic theater of 19th century wild quail shooting. With shorthair English pointers taking the lead in the forest of long-leaf pines and wiregrass, our shotguns at the ready, we stood astounded time and again by bobwhite flushes evocative of fireworks with feathers. Quail exploded from the understory, dazzling the eyes until we could regain our composure for those two swift shots that seemed to echo through time.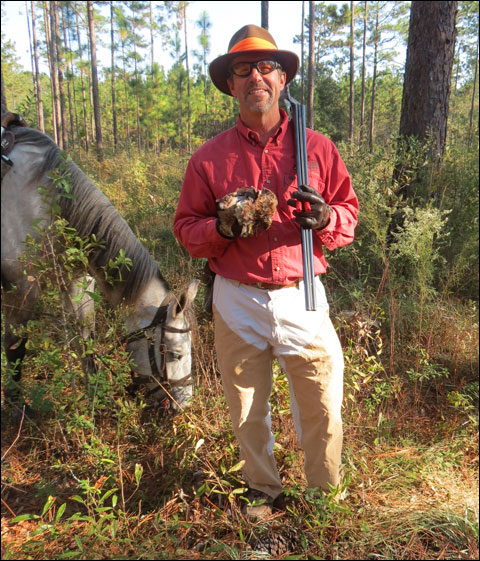 Doug Coe, owner of Pine Hill Plantation, bagged a triple with his 28-gauge Arrieta.
During our inaugural morning hunt, we experienced 11 healthy covey flushes plus singles and doubles. The splendor of bobwhites on the wing racing in autumn sunlight that streamed through the pines almost called for a camera instead of a shotgun. Primal beauty mesmerized hunting instincts, but a heartbeat thereafter our shotguns shouldered in a measured race to intercept one particular bird among the fleeing congregation.
Robust coveys and thriving bobwhite quail habitat sustain Mr. Coe's personal quest to uphold sacred turn-of-the-century quail hunting traditions at Pine Hill Plantation. Over the past decade, Mr. Coe has imposed his own perfectionist ideals on 6,000 acres as evident by triumphs such as the Orvis' 2013 Wingshooting Lodge of the Year distinction and charter membership in the Beretta Trident Program — a comprehensive rating system of exceptional shooting sports venues that ensures the highest levels of quality for hunting and shooting enthusiasts.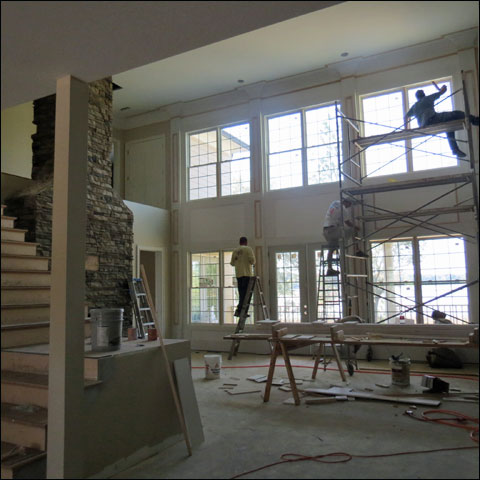 The Sunset Manor Great Room under construction. A lake view lies beyond the windows.
Now a third lodge under construction on the property shows the man in full as the buildings approach completion. Christened Sunset Manor, Mr. Coe has served as its architect, general contractor and even trim carpenter. He's too young to declare Sunset Manor a culmination of his vision for the place he loves, but there's no arguing that the expansion is a substantial milestone for both Pine Hill Plantation and Mr. Coe. Looking back, the convergence of his entrepreneurship, aptitude and passion impart an inevitability of achievement.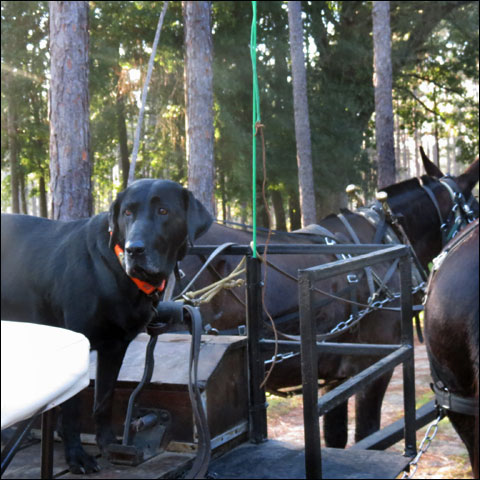 Flint waits on the mule-drawn wagon.
A Georgia native, Mr. Coe had supported his way through Georgia Tech by remodeling homes. He's proficient in electrical and carpentry. By his own admission "I can survive on plumbing and HVAC." He graduated in 1979 with a Bachelor's Degree in electrical engineering that included a minor in construction management. His subsequent five-year plan involved working for a company — patiently building a launching pad to start his own business.
He accepted a job with an electrical contractor, and by 1985 executives presented him with the opportunity to oversee one of its subsidiaries that designed and built stand-by power-management systems. In 1987, he bought an interest in the operation. Eventually, he acquired the entire division and embarked on aggressive R&D and marketing campaigns that strengthened its competitive position. Over the ensuing two decades, Mr. Coe grew the business by a factor of 20. In 2002, he sold it to Caterpillar, Inc. — staying engaged as a consultant until 2008.
Early in his industrial career Mr. Coe began entertaining clients with quail-hunting trips at the finer plantations in the region. The original Pine Hill Plantation opened in 1990 elsewhere in Seminole County from the current site.
At the time, Pine Hill Plantation was a family farm with a 2½-room guest cabin. In a vintage plantation practice, quail hunts were conducted from horseback and mule-drawn wagon. Before long, Pine Hill Plantation became Mr. Coe's preferred destination for business recreation.
Then a phone call came in 2003 from a member of the family that owned Pine Hill Planation. The son had explained that financial difficulties forced his father to sell parcels of land and the guest cabin sat on one of them. He asked Mr. Coe to become an investment partner. The answer, of course, was yes.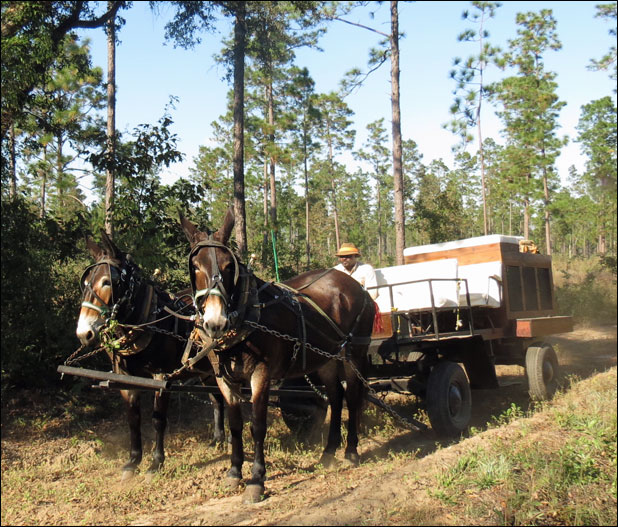 One of Pine Hill Plantation's mule-drawn wagons with Cookie at the reins.
They secured a different property where the current lodges now reside. A fresh push emphasized Pine Hill Plantation's traditional hunts with horses and mules while adding luxury accommodations, a menu of fresh, Southern cuisine and other five-star amenities that emphasized "high-touch personal service," Mr. Coe explained.
He immediately commenced to design a lodge intended for groups of four to eight. He managed its construction on the plantation's original 2,500 acres. By January 2004, Quail Covey Lodge opened to guests. A year later, Mr. Coe applied his expertise to a second lodge, Pine Hill Manor, which handles groups of six to 12. As momentum continued with new bookings and media accolades, Mr. Coe bought out his partner in 2006.
For the next two years Mr. Coe maintained the status quo on growth at Pine Hill Planation. In 2008, though, after fulfilling his consulting agreement with Caterpillar, he developed a marketing and expansion plan with an eye toward eventually handing over Pine Hill Planation to his 25-year-old son, Steven, in a continuation of the family legacy. Mr. Coe's strategies proved spot-on. Since 2008, business has grown 20 percent to 50 percent year-over-year.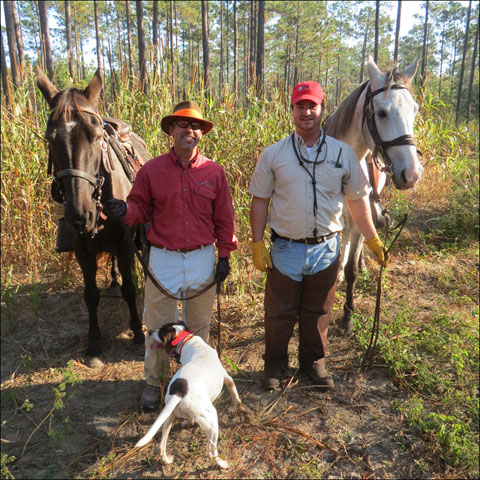 Doug Coe with son, Steven, who served as lead guide on our quail hunts.
He attributes that success to a "very high return rate by our clients. Now we need more lodging capacity to take Pine Hill Planation to the next level."
Mr. Coe broke ground on Sunset Manor in May 2013. He expects the ribbon cutting on his 12,000-square-foot creation by late November 2013. Upon completion, Sunset Manor will double guest space at Pine Hill Plantation and improve operational efficiency of the current 6,000 acres.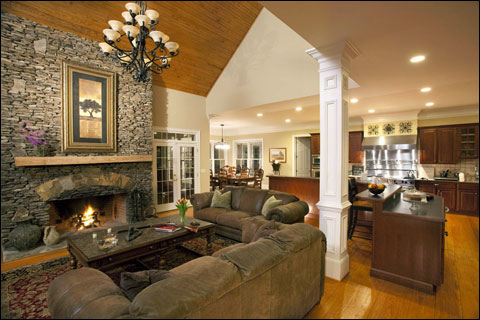 The Great Room of Pine Hill Manor.
Despite the expansion, Mr. Coe will double-down on a core value of Pine Hill Planation — presenting groups with the impression of staying at "their own private plantation." He assigns a dedicated staff and makes sure the party doesn't encounter other hunters in the field.
"Many of our clients seek that experience because they don't receive invitations to private plantations," Mr. Coe said. "They respect the traditions and history of wingshooting and they're looking for that historic connection — an authentic experience."
Next, horseback and mule-drawn wagons
The guides on horseback plus mule-drawn wagons for guests reflect the genesis of plantation quail hunting. Mr. Coe discussed that the sport originated during the Gilded Age of the 19th century, pioneered by the first families of American society such as the Rockefellers, Gettys, Fords and Mellons after their return from hunting on private British Estates. Realizing that America lacked comparable, elite upland bird venues, they purchased the plantations — heralding the dawn of a uniquely Southern institution we now enjoy.
"They sought to bring English gentrification to quail hunting," he said.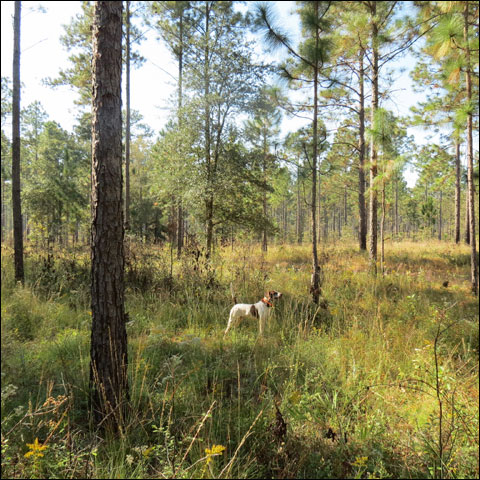 A beautiful Indian Summer morning at Pine Hill Plantation.
Sustainable agricultural and breeding systems nurture Pine Hill Plantation's old-world quail hunts.
Mr. Coe has adopted the region's customary periodic controlled burns that obliterate competitive scrub live oaks and invasive ground cover. He works with scientists at the Tall Timbers Research Station in Tallahassee, Florida to manage habitat. Ultimately, it's all about enriching the wiregrass that serves as primary quail cover. His crew traps four-legged predators, although the aerial variety like hawks and owls are thwarted by defensive feeding locations for the quail.
"The five key things to good quail habitat are cover, cover, cover, feed and feed," he said.
Most important, however, is ensuring the vitality of quail coveys. With the occasional pre-season release, new birds need an established covey to ensure their survival.
"The resident natural coveys know how to escape predators," he explained. "Those birds have been chased and know if they don't get up quickly and fly they'll die."
A trade secret that Mr. Coe covets is the heirloom DNA of the Pine Hill Plantation bobwhite quail. He described it as "genetically controlled…connected to wild quail, to improve their ability to survive in the wild. The science behind it is incredible."
And the quail at Pine Hill Planation do rise with a flourish and fly mightily in their chaotic scatter. Shots are fired in the Georgia woods then once again our hunting party returns to the mule-drawn wagon for more.
Irwin Greenstein is the Publisher of Shotgun Life. You can reach him at contact@shotgunlife.com.