July 2014 — Washington became the second state in the nation to legalize marijuana.
Fast forward six months — The Seattle Seahawks defeated the Green Bay Packers to win back-to-back NFC Championships.
How does the 12th Man celebrate the win? With honorary Marhawn Lynch-edition weed, obviously.
Last year, Seattle residents could buy a "Beast Mode" strain of cannabis, but the Queen Anne Cannabis Club in Seattle has doubled down to celebrate the 2015 season.
According to Queen Anne-owner Nate "Diggity" Johnson, "Beastmode 2.0" has 5% more THC than last year's version. "It's a super pain reliever," Johnson told TMZ, "and hits you just like Marshawn — hard and fast."
5% more THC?
That's enough to turn any Beastmode…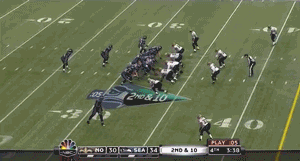 … into a Feastmode.