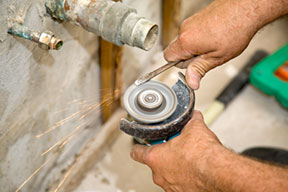 (NewsUSA) – Plumbing projects can seem daunting to many homeowners, and when done incorrectly, they can be messy and disastrous to your property. In addition, poorly performed plumbing repairs can be expensive. You may spend more money on a plumber who has to fix your mistakes in addition to repairing the initial problem.
Most homeowners are capable of fixing a simple leak, at least enough to prevent further damage until a plumber arrives. Early detection is the key, and several products are available that are designed to help identify small leaks before they become big problems. One such product is the FloLogic System, which monitors the water supply in your house from a single location in the main. If the water flow exceeds a preset limit, indicating a possible leak, the system acts like a circuit breaker, shuts off the water, and sounds an alarm.
There are several other plumbing projects that an energetic do-it-yourself homeowner can tackle, including:
* Hoses and shower heads. Replacing shower heads and washing machine hoses isn't difficult, but make sure you know which replacement parts to buy before getting started. If you need to replace the shut-off valves in a shower or tub, however, it's best to call a professional plumber, because an incorrectly installed valve can lead to a flooded bathroom.
* Pipe insulation. If you have the time and inclination, seek advice from the experts at your local home repair store so you have the right jackets, boards, moldings, mats and tapes. Once you have the right items, and if you are prepared for cramped spaces, you can take on insulating your own pipes.
For a major installation, such as a water heater, don't try it yourself. It's an expensive project, but once it's in place, it should last for 15 to 20 years, so it's worth having it done by a professional.
And, of course, small leaks can turn into big problems, so once you have identified and temporarily contained a leak, call your plumber to have the leak evaluated and fixed.
To learn more about FloLogic, visit www.flologic.com.