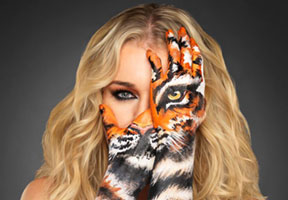 (NewsUSA) – Who doesn't remember the iconic picture of Demi Moore on the cover of Vanity Fair, naked in a painted-on suit? Since then, body painting has become a growing art form, as more artists become adept at using skin as their canvas, and more people have put getting body painted on their bucket lists.
To understand how this unusual take on art has made its way into the 21st century, it is important to know the history behind it. Experts believe that body painting was the first form of art used by humans, and archeological evidence is close to supporting it, according to historyofcosmetics.net. Tribes from Africa, Europe, Asia and Australia have all used natural pigments from plants and fruits as a way to celebrate their spirituality, showcase images of gods or war, or prepare for life events such as weddings, death or adulthood.
Fast-forward to the early 1900s, and the first appearance of full body paint occurred when make-up guru Max Factor Sr. exhibited a naked model Sally Rand (in full body paint) at the 1933 Chicago World's Fair. Suffice to say that Mr. Factor was a man ahead of his time. His art did not make the splash he had intended (or perhaps it did), but body paint as an art form in the West did not become widespread until the 1960s, when the hippie movement brought it to life.
Now, body painting has become so popular and in style that there is a new TV show where artists compete and showcase their talents.
Due to premiere its second season on June 10, GSN's Skin Wars is a one-hour competition show that seeks to find the most skilled, accomplished and innovative body artists from across the country. At stake is a $100,000 prize, an all-expense-paid trip for two to the World Body Painting Festival in Austria, and a nationally distributed Royal and Langnickel custom brush collection with their name on it.
The show is hosted by actress Rebecca Romijn, who is known both as the first-ever body painted model in Sports Illustrated's iconic swimsuit issue and as Mystique from the X-Men films. She is joined by judges RuPaul Charles and award-winning body painting icons Craig Tracy and Robin Slonina.
In this series, imagination and creativity are the only things holding contestants back, so let the games begin.
For more information, visit www.gsntv.com.