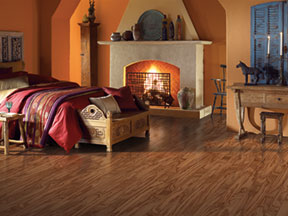 (NewsUSA) – When it comes to updating your home, it's hard to know what will last over the long haul. Granite countertops that have been the trend? Passe. Faux painted walls? So yesterday (by the way, wallpaper is making a comeback). You get the idea.
Yet hardwood floors continue to withstand the test of time. They provide warmth and add classic beauty to even the most austere home.
"Hardwoods are just easier, especially for people who have pets and kids," Kevin Aycock, president of Kevin Aycock Homes in Atlanta told The Atlanta Journal-Constitution in an interview.
These days homeowners have a plethora of choices when it comes to installing hardwood floors. With so many choices, it can be daunting trying to decide on the best hardwoods for your home.
However, most industry experts agree: Pre-Finished beats unfinished by far.
"Factory finishes can furnish up to 10 UV- and wear-resistant layers, and offer a 20-year guarantee that on-site finishers can't get close to," Gary Mills of Fullerton Wholesale Flooring in Anaheim, California, told The Washington Post in an interview.
To this end, engineered wood (also called veneers), which are made of three to five layers of wood laminated together can be an affordable option that has all the comfort, warmth and classic feel of solid plank flooring. And because of cross-lamination, engineered floors are more stable and don't expand and contract as much as solid wood. They can also be installed at any grade level, are typically less expensive than solid planks (engineered wood costs anywhere $3-$18 per square foot) and will last from 20 to 100 years, depending on the thickness of the top veneer.
While hardwoods aren't indestructible, Mohawk Flooring is making it its mission to have its hardwood floors last as long as possible.
According to Tammy Perez, Mohawk Flooring's director of hard surface marketing, its new ArmorMax top coating, which is added to its premium laminate collection, enhances an already heavy-duty wear layer to all hardwood flooring.
"Mohawk ArmorMax floors have all of the design options we love about hardwood — a variety of colors, widths and textures," Perez said. "But ArmorMax finish is not a topical finish. It penetrates deep into the wood fiber, making it up to five times more resistant to wear than other extended finishes."
For more information, visit www.mohawkflooring.com.