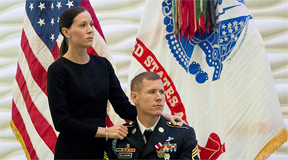 (NewsUSA)

– Sponsored News – Through its unique patient assistance programs, EMD Serono, Inc., the North America biopharmaceutical business of Merck KGaA, Darmstadt, Germany, has been working to bridge significant gaps in coverage of fertility treatment for eligible active U.S. military, and veterans who have been injured in service such as Alex D., who suffered from a spinal cord injury while in active service.
"More than 2,200 service people have suffered catastrophic injury which has rendered them infertile, and many of these patients have been medically retired, which compromises their coverage for infertility treatment," says Alan Copperman, MD, a reproductive endocrinologist in New York City. "It's crucial that the infertility community work together to help increase access to fertility treatment for these men and women, who have made such great sacrifices for our country."
The company's Compassionate Corps program is the first patient-assistance program to provide fertility medications at no charge for eligible U.S. Veterans who are infertile due to a service-related injury. Since launching less than two years ago, EMD Serono's Compassionate Corps program has helped more than 70 veterans obtain medication for IVF/advanced reproductive technology (ART).
Uninsured active U.S. military, as well as military veteran patients who do not qualify for the Compassionate Corps Program, are encouraged to apply for EMD Serono's Compassionate Care Program, which helps uninsured, income-eligible patients receive discounted fertility medications. The program has helped more than 30,000 underserved patients gain access to fertility medications. Of these, more than 1,400 are active U.S. military or veterans.
"With more than a million Gulf War veterans living in the U.S., many of whom are still of child-bearing age, the veteran community is significant in number and highly in need of increased access to family-building resources," says Craig Millian, Senior Vice President, Head of U.S. Endocrinology and Fertility. Through the Compassionate Corps and Compassionate Care programs, we have advanced our mission of advocating for people who want to have a child.
For more information about the Compassionate Care and Compassionate Corps programs, and about infertility, treatment options, and finding a specialist near you, visit www.FertilityLifelines.com.