Democratic Senate Candidate Invests In Companies That Outsource Jobs, Hide Money Offshore
Since entering the Illinois Senate race last week, Democratic Rep. Tammy Duckworth has been running a protectionist campaign, railing against her Republican opponent's alleged support for outsourcing jobs and overseas tax havens.
But financial records obtained by The Daily Caller show that Duckworth has investments in companies that use offshore tax havens and ship jobs overseas.
Duckworth took aim at Republican Sen. Mark Kirk in her opening press conference the day after announcing her candidacy, accusing Kirk of voting to protect tax havens and tax cuts for companies that outsource jobs.
"We need to go after those programs that gave tax loopholes to wealthiest families that protect large businesses that send jobs overseas at the expense of the businesses that stay here in Illinois and work hard to employ people right here in Illinois," she said.
"Senator Kirk Has really been quite irresponsible in some of his actions in the Senate whether it's those votes for tax cuts for the rich, for those companies that send jobs overseas," Duckworth continued, before focusing on her opponent's patriotism.
"I said companies that go abroad to do that, I feel very strongly that you have left your country behind when you do that and you should be, that your loyalty should be here and pay your fair share because its not fair to those working families that are working two jobs sometimes three, trying to get by, trying to pay their mortgage, trying to make sure they save some money for college for their kids. They're paying their fair share of taxes, they don't have the benefit of an overseas shell corporation to hide their wealth. Let's invest in them for a change. That's who I believe in. That's who I'm running in the senate to serve."
But Duckworth's most recent financial disclosure report lists some investments that Chicago Democrats might want to know about.
1. Maybe the Caribbean DOES have better health care after all….
Duckworth owns between $1,001 and $15,000 in stock in Chicago-based Abbott Laboratories, which keeps $40 billion in 107 different "tax-haven subsidiaries" in Barbados, the Caymans Island and everybody's favorite chocolate-maker: Switzerland!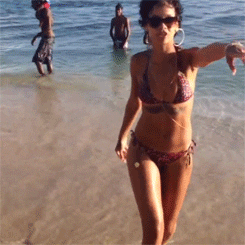 2. Warmer than Peoria…
Duckworth owns between $2,002 and $30,000 in stock in Caterpillar Inc.
The Peoria-based company owns $15 billion at 76 offshore sites in places including Bermuda and Singapore.
3. Fawlty Towers?
Duckworth owns between $1,001 and $15,000 in North Chicago-based arthritis drug company AbbVie Inc.
AbbVie Inc. almost became AbbVieShire (literally) when it agreed to buy a company called Shire for $55 billion last year and re-incorporate in Great Britain, slashing its tax rate from 22.6 percent to 13 percent. The Illinois company had been trying its best to work out a deal over numerous attempts.
But American tax law changes scared the board of directors and they later called off the merger.


4. Good Skiing…
Duckworth owns up to $1,000 in Cisco, which has a political action committee that donated to her last campaign.
Cisco cut its tax bill by $7 billion through its subsidiary in the Swiss Alps.
Cisco kept nearly 90 percent of its m0ney overseas, as of 2011.
5. We Bring Good Things To…Other Countries
Duckworth owns between $1,001 and $15,000 in stock in General Electric, for which she has been paid dividends.
General Electric has been repeatedly identified as a "pioneer" of outsourcing.
Those folks have $110 billion offshore.
Just to be clear: There are a finite number of American dollars. And General Electric is holding on to $110 billion of them overseas.
Duckworth owns between $1,001 and $15,000 in Goldman Sachs Group, Inc., for which she has been paid dividends.
Amount of money Goldman keeps offshore: $22.5 billion.
Number of tax haven subsidiaries: 15.
Goldman's tax rate: 17 percent.
I pay more in income taxes and I pay with change at McDonald's.
7. "Tool Time" Canceled
Duckworth has between $1,001 and $15,000 in stock in Illinois Tool Works.
The tool guys are fighting with the IRS over their reported $356.8 million "cross-border tax avoidance strategy."
8. Which Johnson was responsible?
Duckworth owns between $1,001 and $15,000 in Johnson & Johnson, for which she was paid dividends.
Johnson & Johnson keeps money offshore, according to CNN.
Tags : tammy duckworth