Miller Lite isn't playing games when it comes to responding to Bud Light.
Bud Light has had an impressive and humorous "Dilly Dilly" campaign centered around a medieval time period. Even as an avid Miller guy, I enjoy the commercials.
They even joined forces with "Game of Thrones" for a Super Bowl spot. (RELATED: These Are The Sexiest Photos Of 'Game Of Thrones' Star Emilia Clarke On The Internet)
The Bud Light and @GameofThrones worlds collide #ForTheThrone. pic.twitter.com/6rSIYOFRTK

— Bud Light (@budlight) February 4, 2019
They've also taken shots at the fact Miller is brewed with corn syrup, which is why I think my favorite beer company felt the need to retaliate.
To be clear, Bud Light is not brewed with corn syrup, and Miller Lite and Coors Light are. pic.twitter.com/x6tWqdSRXN

— Bud Light (@budlight) February 3, 2019
Miller released two new commercials parodying the medieval theme, and about how "in the real world more taste is what matters."
Watch both of the new videos below, which will both run heavily during March Madness.
As a fan of beer, I love the fact the these two major powers are now in an epic advertising battle. Competition makes everybody better, and it looks like Miller Lite has had enough of Bud's antics. That means war, and that should make fans of comedy everywhere happy.
It's a bold strategy to literally rip Bud's entire concept and mock it for being fake. That's the kind of strategy I can get behind.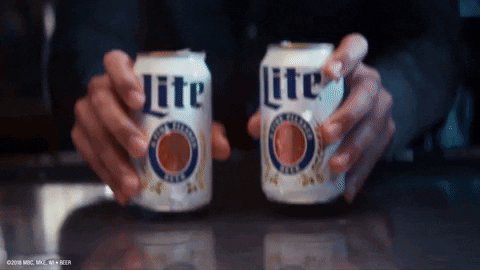 The question now is how will Bud Light respond? I mean, Miller just came for their heads. They tried to dome them. You can't just take that without a huge response.
This is like a nuclear war-escalation scenario. Expect Bud to hit back and hit back hard. I want this to get ugly, and I'll be sipping a cold brew the whole time as I laugh nonstop.
Well played, Miller. Well played.