The fifth episode of the final "Game of Thrones" season was absolutely out of control Sunday night on HBO.
WARNING: THERE ARE GOING TO BE SOME SERIOUS SPOILERS BELOW. DO NOT KEEP READING IF YOU AREN'T CAUGHT UP. CONSIDER YOURSELF WARNED.
I'm almost at a loss for words after seeing "The Bells" last night. I promised you all we'd get plenty of violence, but I had no idea we were in for the kind of carnage we saw. (RELATED: These Are The Sexiest Photos Of 'GameOf Thrones' Star Emilia Clarke On The Internet)
There are a few major points I want to cover, and let's dive right in. Early on, Tyrion reveals to Dany that Varys has betrayed her. Shortly before his execution, we see him writing letters about Jon Snow's true heritage, but we never see who these are meant for. Is Varys trying to warn people in Winterfell? Who could he be telling?
At this point, it seems like anybody who matters already knows, but he was still trying to get word out to some unknown individuals. Of course, he was eventually torched by Daenerys.
Jon and Dany then exchange words about how she isn't loved and is only feared. The whole episode pretty much boils down to this moment. It looks like they're going to have sex, but Jon pulls back, which only re-enforces her idea she must rule by fear if she's not loved.
Literally, all Jon had to do was have sex with the hottest woman in the show and it could have stopped everything that happened next. He had to choose between having sex with certified smoke Dany to prove to her she is loved or do nothing and let her rule through fear. In one of the biggest bonehead decisions ever made, he doesn't get it on with her. It'll be remembered as an all-time stupid decision from our boy Jon Snow, which leads us to the battle at King's Landing.
Our girl Dany went nuclear on Cersei and the rest of King's Landing. Despite the fact Jaime rang the bell as a sign of surrender, she murdered thousands and thousands of people as her soldiers slaughtered the Lannister army.
She made quick work of the defenses, lit up the Golden Company and obliterated everything in sight.
Her journey into the mad queen has become complete. After taking King's Landing with little blood being spilled, she choose fear and death. She massacred countless people, and her soldiers willingly complied.
Jon and Arya did what they could to help people, but it was far from enough.
We also got some major deaths last night. Cersei and Jaime, who previously killed Euron, die while trying to escape the carnage.
I think we all knew Cersei was going down, but I didn't expect Jaime to die with her. If anything, I thought she'd take him out. (RELATED: 'Game Of Thrones' Is Excellent In New Episode 'The Last Of The Starks')
We also got the Mountain and the Hound fighting to death, which was something we've waited years to see. In the final moments of Cersei's rule, the Mountain abandoned her to fight his brother.
Now, we're really only left with Dany, Jon, Sansa, Tyrion and Bran. There's three Starks (I'm counting Jon as one), there's Dany (who just committed genocide) and Tyrion.
My guess is Tyrion is out of Daenerys. He looked horrified during her carnage, and I see his loyalty shifting. Again, it really just blows my mind how this all could have been avoided if Jon just had sex with Daenerys. All he had to do was have sex with the hottest woman on the show and his queen.
It's really not that difficult and he's done it before. Instead, he was a bit selfish and it resulted in the biggest massacre in the show's history.
I don't want to sound like a hero, but I'd have sex with a blonde smoke show in a heartbeat in order to save countless lives. Again, not a hero, but certainly smart than our boy Jon Snow.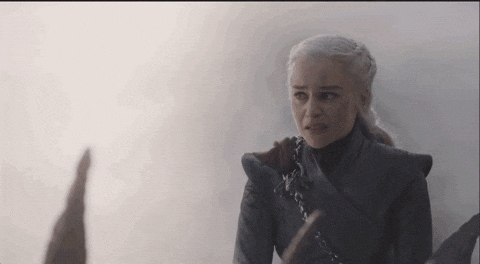 Next week, I have a strong feeling the Starks are going to take out Dany. You just hate to see it. I was so high on her, and now she's a psycho.
She's become her father, and deep down I think we all saw it coming. Tune in next Sunday for the final "Game of Thrones" episode.