By Barbara Baird, Women's Outdoor News
Another 2014 Shooting, Hunting, Outdoor Trade (SHOT) Show gets tucked away in my memory bank. But first, here are 7 reasons why this year's show rocked the house, i.e., the Sands Expo Center, in Las Vegas, Nev. These are ranked chronologically.
1. Getting to throw lead downrange
The entire experience began with Media Day on the Range, hosted by the National Shooting Sports Foundation, on Mon., Jan. 13, on a range near Boulder City. We shot other people's guns with other people's ammo. We could shoot as much as we wanted, but with so many guns available and really, so little time, we traveled quickly among the various shooting benches.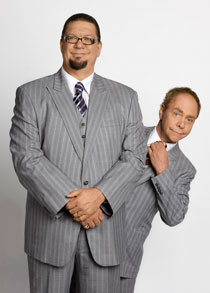 2. Penn & Teller did it, with the revolver, in the ballroom
Usually, this is an evening that should be stuffy, but turns out stupendous. More than 2,000 attendees sat down to dine together at the annual Industry Dinner, listen to the state-of-the-industry address from the NSSF's president and watch some form of entertainment. This year illusionists Penn & Teller showed up. My favorite act? The disappearing bullet trick — their finale, where they caught (between their teeth, mind you) specially marked bullets that they fired at each other with revolvers at close range. Then again, that woman who levitated on stage also has me scratching my head.
3. TeamWON reunites at Women's Industry Dinner
Our managing editor, Britney Starr, and her compatriot, Jacquelyn Kelly, started the Women's Outdoor and Shooting Industry Dinner last year, with a cowboy theme at Gilley's. This year, they went for glitz and planned a night for more than 200 women from the industry at the V Bar in the Venetian, with the theme "Hollywood Glam." Elbow-length gloves, mink stoles and costume jewelry went on display as women showed their abilities to clean up classy. You can read a photo essay by Michelle Cerino, who covered it so well. TeamWON met up on the red carpet for a group photo. We missed Sara Ahrens, who had a personal family emergency. Otherwise, the team included Julie Golob, Britney Starr, Michelle Bodenheimer, Lisa Jane, Michelle Cerino, Molly Smith, Mia Anstine, Vera Koo and yours truly.
4. Seminars — Webinars
The industry is taking notice of the women's movement, more so than ever. Earlier this year, Tisma Juett (manager of the First Shots program for the NSSF) asked me to join a superb lineup of women from the industry for a Retailers Seminar on how to market to women. Our columnist Julie Golob joined Randi Rogers, Kate Krueger, Gabby Franco, Linda Powell, Suzi Huntington and me on a panel that addressed women and firearms sales issues to a standing-room-only crowd. Later I spent time in a Beretta-hosted webinar on "The Female Side of Firearms," along with Natalie Foster (Girls Guide to Guns) and Carrie Lightfoot (The Well-Armed Woman).
5. Seeing TeamWONners take off
As I mentioned earlier, several women from TeamWON attended the event. My heart warms to see their many successes — at The WON and elsewhere. They are certainly making names for themselves in the industry, and I'm really proud of where we've been and where we're going. Let's just say, all of them have street cred and we all rejoice in each other's triumphs. And, also, we are looking forward to what 2014 holds — including partnerships with "Shoot Like A Girl" and "DIVA WOW" organizations.
6. Girls with Guns gets a TV show
I sat down with my buddies, the proprietors of Girls with Guns Clothing (Jen Adams and Norissa Harman), at a coffee shop to catch up. As it turns out, they're going to be catching up a lot this year, because along with running an apparel business that has grown by 300 percent in the past 12 months, they are taking on the challenge of their first TV show, "Universal Huntress." In the show, Jen and Norissa will travel to hunt and shoot, and also they'll try out new adventures — like skydiving in Africa. It launches in January 2015 on the Sportsman Channel. The women could not believe the difference a year made in their lives. Whereas last year, they came to SHOT show as unknowns, this year, they couldn't walk across a room without someone calling out their names. Imagine what next year will be like for them.
7. Meeting a Medal of Honor recipient
This one should be first, but it's last because it's the last thing that happened, literally during the last minute of the last day. I saw my buddy, Jana Waller, and she introduced me to Clint Romesha, a recent Medal of Honor recipient. Clint survived a battle in Afghanistan and saved many of his comrades while acting heroically under fire from the Taliban. You can read about it here. We talked about the Army, since my son is going to be deployed shortly, and also, about military life a bit. But really, he is a wise and dear soul in a young man's body, who has suffered heartbreaking losses and experienced hell on earth. To his family and to Clint, thank you from the bottom of my heart.
If you want to see more about this year's SHOT Show, please check our lineup from last week:
5 things I liked from SHOT Show Media Day at the Range
Mia & the Little Gal: 5 things the Little Gal will love from the SHOT Show
Bodie finds 5 essential gear items for the lady hunter
Hollywood glam alive and well at Women's Outdoor and Shooting Industry Dinner
The Writing Huntress's good, clever and downright weird 2014 SHOT Show finds
Our Facebook and Twitter activity exploded last week with updates, az well.
Also, Beretta offers an insider's glimpse to the show, along with webinars on the female gun owner topic.