By Michelle Cerino, Women's Outdoor News
Quite often the outfit I'm wearing determines my method of concealed carry. Form-fitting shirts are not as conducive as a sweatshirt or sweater for carrying a gun anywhere near my waist. Waist carry is not an issue if I'm wearing a jacket or blazer. I never overlook the option of carrying off body, in a purse or another bag. However, there are times I don't want to carry a purse and my clothing doesn't let me conceal a gun on my waist. My husband does it all the time, so I decided to try an ankle holster from CrossBreed.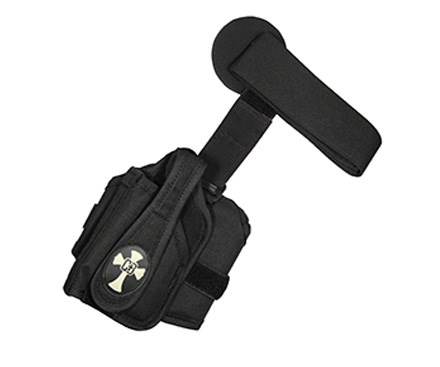 –
CrossBreed's ankle holsters are available for many pistols, including most popular revolvers. With a padded ankle section for comfort, they also have an adjustable velcro thumb break to ensure firearm security. The system also features a calf support strap to keep the holster from riding down. With an MSRP of $49.94, it's a reasonable option.
Ankle holsters fit nicely inside the top of a boot. (Chris Cerino photo)
Although ankle carry seems fairly straightforward, there are issues to consider. Knowing where to place your ankle holster seems like a no-brainer, but did you know ankle holsters almost always place the gun on the inside of your ankle? A right-handed person positions the gun on the inside of her left ankle, while a left-hander places the pistol on the inside of her right ankle. When an ankle holster comes with a calf support strap, adjust it to a height and tension that prevents the pistol from riding down your leg. The easiest way is to place the holster atop a high-top shoe or boot. Or slide it down inside a cowboy boot.
Drawing a pistol from an ankle holster is not difficult, but it's a specific skill and takes practice. The most common method is to take a knee and pull up your pant leg to expose the firearm. At the same time, my strong hand reaches down to the gun in the holster. Sounds simple enough, right? Take into account the many different scenarios that may be involved. As a studious concealed-carry holder, I visualize how to handle the various situations I might find myself in, and practice accordingly.
Scenarios, situations and positions to practice:
In a restaurant, seated at a table. High-top or low table?
Standing in a room, in a group of people. Is there cover?
Seated on the ground at an outdoor event. Can I draw my pistol? Can I keep it covered?
Driving a car. Can I bend my leg to bring the holster to my hand?
What if I can't bend over? Can I bring the gun to my hand?
"If/then," should really be thought of as "when/then"—especially when it comes to your safety. It's important to consider various scenarios and then visualize how you would respond to each. As they say, "The body won't go where the mind has never been." When this…then that!
When buying an ankle holster, there are several things to consider.
Do they make it for my particular firearm or is it a generic, one-size-fits-all holster?
Is there padding in the ankle section, and will it be comfortable?
Can I run with it, and does it have a retention feature?
Is there a calf support strap, and do I even need it?
As with any choice for concealed carry, take time to practice. Use the pistol you carry, after checking and double-checking to make sure it is unloaded. Work on your draw from various positions in a slow and methodical way. Once you lay your movement groundwork, speed will come naturally.
If you want to test yourself, use a timer to see how long it will take you to present your gun. The time you spend practicing will make a huge difference when circumstances demand action. After all, under stress, you will react as you have trained.
—–
Thanks to Women's Outdoor News – Click here to visit and share this site.
The holsters tested are CrossBreed Holsters – They are made in America and you can see them by clicking here.