Halle Berry will star in Roland Emmerich's new movie "Moonfall."
The Hollywood Reporter reported Tuesday that the iconic actress will join the cast of the highly-anticipated sci-fi disaster film as an astronaut with keys to helping save the world. Josh Gad is already a member of the cast. (REVIEW: 'Westworld' Season 3 Ends With The Possible Deaths Of Multiple Characters)
THR reported the following details on the plot:
Penned by Emmerich and 2012 co-writer Harald Kloser and Spenser Cohen, Moonfall sees its plot go into action when the moon is knocked from its orbit by a mysterious force and is on a collision course with Earth. Life as we know it hangs in the balance and with just weeks to go before impact, a ragtag team is sent on a seemingly impossible mission to land on the lunar surface and save humanity.
So, who is excited to see Halle Berry in a new movie? Yeah, I'll go ahead and shoot my hand right up into the sky immediately.
Let's make a couple of things clear right away. First, Halle Berry is a hall of fame caliber actress. We're talking about one of the greatest actresses of the past 30 years.
We're talking about a woman who moves the needle in Hollywood! Now, she's joining the cast of one of the most anticipated sci-fi films in years.
Secondly, Halle Berry is also an absolute smoke. There are a few videos I could link too, but I'll let you guys do your own Googling.
What I will say is her ocean scene in "Die Another Day" is legendary in the James Bond saga.
I don't know who specifically made this call for "Moonfall," but they 100% deserve a raise. I was going to see this movie no matter what.
Now, I might have to go opening weekend. Go, Berry, go!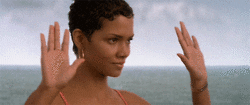 There is no set release date just yet. Keep checking back for more updates when we have them!