You carry a lot of little things around with you every day. From your phone to your credit card, to even your wedding ring, you run the risk of losing your valuables or even having them stolen. And if you've ever lost something small but important, like, say, your wallet, you can relate to the emotional toll that comes with it.
While you can't lug around a full-fledged safe around with you everywhere, ensuring your prized possessions stay locked up and safe (and boy, wouldn't that draw a lot of attention), there's a more reasonable option that can promise you the same level of protection. Meet the Trova Go+ Plus Biometric Storage Box, a portable safety vessel that houses your handheld valuables so that they never get into the wrong hands.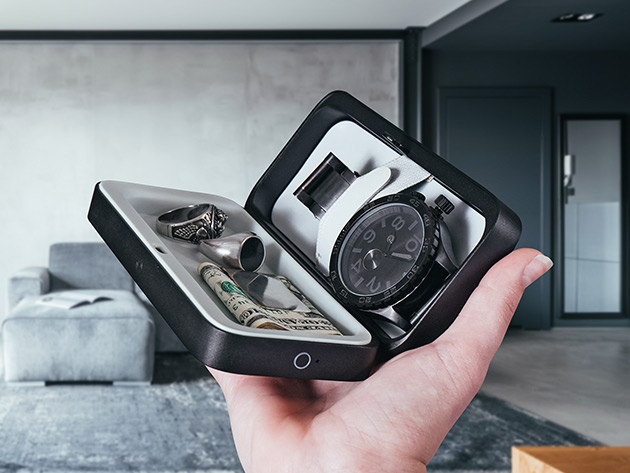 This award-winning gadget was carefully designed to hold your most meaningful and/or expensive gizmos and gadgets, accessories, money, prescriptions, and more, giving you complete control over their safety. Boasting 60% more storage capacity than previous models, this box can be biometrically opened by you, and only you, through its accompanying Trova app.
The Trova Go+ Plus Biometric Storage Box relies on a Bluetooth connection and can work independently of Wi-Fi, allowing you to keep tabs on it from anywhere, simply by looking at your phone. You'll receive all kinds of helpful alerts like its last known location, battery life, and more, making keeping track of it incredibly easy. And thanks to its aluminum alloy make, it's super lightweight and portable so you can take it around anywhere with you.
Featured on Forbes, Mashable, Dwell, and more, people everywhere are learning just how life-changing using this box can be. Just read the gadget's online reviews and see for yourself!
"…a chic, modern personal storage device that will make sure your kids don't accidentally find your stash of cannabis cotton candy but is also not readily identifiable as a safe." – Fast Company
"As a 100K mile annual traveler, I love the simple technology and elegance of this essential, travel must-have!" – James
"Excellent for storing jewelry, cash, credit cards, prescriptions, the list goes on and on." – Anonymous
For a limited time, you can get the game-changing Trova Go+ Plus Biometric Storage Box for just $185 when you use the code TROVA34 at check-out.
Prices subject to change.
Have a suggestion for a cool product or great deal that you think Daily Caller readers need to know about? Email the Daily Dealer at dealer@dailycaller.com.
The Daily Caller is devoted to showing you things that you'll like or find interesting. We do have partnerships with affiliates, so The Daily Caller may get a small share of the revenue from any purchase.