At this point, everyone's experimented with some passable yet questionable quarantine looks, from head-to-toe sweats to at-home haircuts. But just because you haven't been able to make it to the hairdresser in a while doesn't mean you have to look like Tom Hanks in Castaway. After all, you still have to show your face in Zoom meetings.
Even if you can get an appointment with your local hairstylist, it typically costs a fortune, leaving you wondering if you can just manage a cut yourself. While typically this would be out of the question, tools like the Brocchi Grooming + Trimming Tool make giving yourself clean, close shaves, and dynamic cuts as easy as brushing your teeth or taking a shower. Well, almost as easy.
The power of this stellar grooming tool lies in its stay-sharp ceramic and titanium-coated blade that gives you precise, even trims, just like you would get at the barbershop. And thanks to its two included guide combs, you can completely customize your look. It also comes with four length settings, ranging from 1mm to 1.9mm, perfect for a wide range of different hairstyles.
Even if you're not used to trimming and cutting your own hair, the Brocchi Grooming + Trimming Tool makes it easy. On just a three-hour charge, you can use the tool, wire-free, for up to a whopping five hours at a time. And since it boasts a super-comfortable grip, hitting all the right angles is incredibly easy.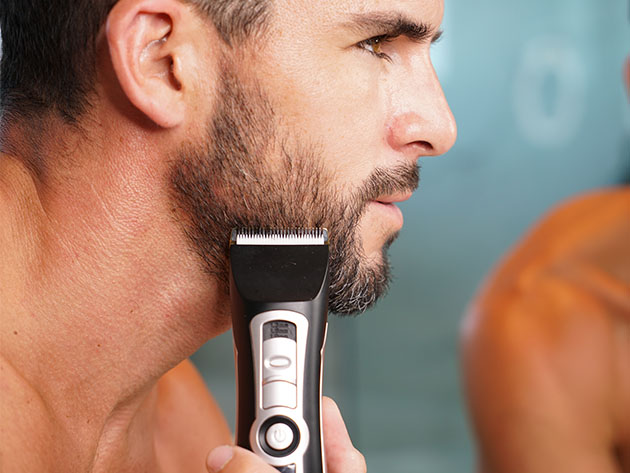 Still not sure if you can get great cuts and trims with the Brocchi Grooming + Trimming Tool? Check out some of these awesome reviews and you likely start thinking otherwise.
"Easy to adjust and Amazing battery life so far! I would recommend this trimmer." – Eddyby80s
"Battery life is great." – Seton T.
"A good value…battery life is great." – Seton T.
Have a suggestion for a cool product or great deal that you think Daily Caller readers need to know about? Email the Daily Dealer at dealer@dailycaller.com.
The Daily Caller is devoted to showing you things that you'll like or find interesting. We do have partnerships with affiliates, so The Daily Caller may get a small share of the revenue from any purchase.