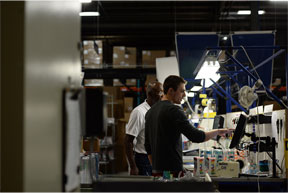 (NewsUSA)

– Sponsored News – Florida has long been known as the gateway to space and key location for trade with South America, but the state's advanced manufacturing industry is growing and companies around the globe are taking notice.
Supporting the idea that Florida is as much a hub for manufacturing as any other state in the nation is a recently published analysis by PwC that recognizes the state as No. 2 in the country for aerospace manufacturing attractiveness and with the 2nd largest growth in manufacturing firms between 2012 and 2015, according to the Bureau of Labor Statistics.
At the heart of today's manufacturing industry are technological advances making goods developed in the United States more affordable. With Florida's focus on high-tech, innovation in manufacturing is always top of mind. And with MFG DAY Florida on Oct. 7, the manufacturing industry is addressing technology, workforce and misperceptions to ensure the prosperity of this thriving Florida industry.
In fact, the state is home to more than 18,600 manufacturing companies, producing everything from aerospace products and batteries to pharmaceuticals and solar power. And with 19 commercial airports, 15 deepwater seaports and thousands of miles of interconnected road and rail, transporting these goods is easy, making Florida a natural trade hub for both domestic and international businesses.
Over the next several years, it is expected that there will be 1.3 million new high-tech sector jobs, many related to the manufacturing industry. To ensure Florida's share, entities including Florida's High-Tech Corridor and the State University System of Florida have come together to develop the International Consortium for Advanced Manufacturing Research Center (ICAMR), which serves as a magnet to attract and grow next-generation advanced manufacturing. The organization builds a bridge between academic researchers and industrial partners developing technology and a highly skilled workforce in an environment in which educational opportunities are boundless.
Tervis Tumblers, a Venice, Florida-based business that manufactures and sells tumblers decorated with everything from pets to the Patriots, employed less than 300 people a mere six years ago, and now boasts a roster of more than 900 employees.
"As far as the workforce talent here in Florida, we have very loyal and dedicated employees, some of whom have been part of the company for as long as 25 years," says third-generation owner Rogan Donelly.
Tervis found its niche in Florida as its partnerships (and demand) with major institutions like Disney, the NFL and Warner Brothers, grew. It is those connections — certainly nationally, but more locally — that has allowed the company to sustain such growth.
Other companies, such as Frito Lay, Johnson & Johnson, American Elite Molding, Conergy and Bertram Yachts, are just a few that are also glad to call Florida home.
For more information, visit www.enterpriseflorida.com.