Alabama football coach Nick Saban thinks the team had several problems leading up to the national title loss against Clemson.
The Crimson Tide got dog walked by the Tigers in the national title game, and it was one of the most embarrassing losses on a big stage that I've ever seen. Now, he's giving fans a little insight of how it all went so wrong. (RELATED: July Is The Final Month Of 2019 Without College Football)
Saban said the following Wednesday during SEC media days when discussing the loss to Clemson, according to CollegeFootballTalk:
I think that we didn't play with the discipline at the end of the season that we'd like to have as a team. I don't think that our preparation, so that we can go in a game and be very responsible and accountable to do our job at a high level on a consistent basis, was what it needed to be.

And you know, whether or not people were worried about personal outcomes more than team outcomes, it's always hard to judge that. But it seems like we had a lot of distractions at the end of the year.
Well, it certainly sounds like Alabama had some issues down the stretch last year, and it doesn't sound like Saban is too happy about it.
The line about "personal outcomes" is pretty damning. The last thing you want Saban to be doing is talking about whether or not people were focused.
From the sounds of it, they most certainly weren't.
View this post on Instagram
I have a strong feeling Alabama is going to be looking for blood and lots of it when this season begins. They got embarrassed on the national stage last season, and that's something they've had to simmer with for the past few months.
You're crazy if you don't think that hasn't been driving Saban and the rest of the squad to get better. I can promise you it has.
The six-time national champion is a psycho when it comes to the sport, and I really wouldn't want to be on Duke's team when week one rolls around.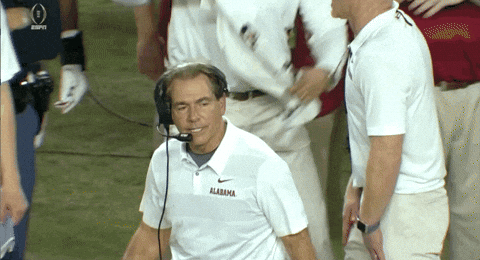 I can't wait to see how Alabama bounces back. It's going to be a great year for college football, and I have no doubt Saban's crew will come ready to roll.