Zion Williamson threw an absolute rocket during an appearance at training camp with the New Orleans Saints.
The Pelicans, who took the former Duke star first overall in the 2019 NBA draft, posted a video of the star forward ripping a football downfield Monday.
I'm not talking about a short little out route. The freak of nature athlete flicked his wrist and sent the ball 50 yards downfield. (RELATED: New Orleans Pelicans Pick Zion Williamson First Overall In The NBA Draft)
Watch the absurd display of throwing ability below.
AIR ZION

Casual 50+ yard throw#SaintsQBs | @ZionWilliamson pic.twitter.com/Xk89IVLgQV

— New Orleans Pelicans (@PelicansNBA) July 29, 2019
I don't know for sure how Williamson's future in the NBA will go, but I do know he could make an NFL roster as a Hail Mary only quarterback if necessary.
He barely put any effort at all into that throw. Just a flick of the wrist!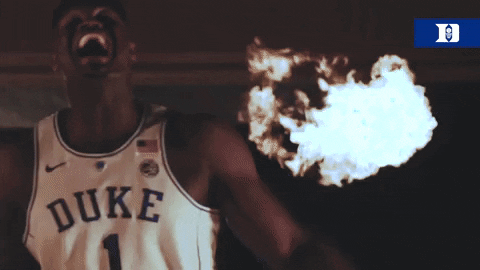 Imagine how strong you have to be as a human to throw a football half of a field by just snapping your wrist. There aren't many quarterbacks in the NFL with that kind of arm strength.
Hell, there might not be a single QB in the NFL with that kind of arm strength from just standing position and casually throwing.
Again, the man is a freak of nature.
View this post on Instagram
It's going to be so much fun watching Williamson over the next decade. I have no doubt at all he's going to tear up the NBA.