Sophie Turner is apparently down with Big Ten football.
During a recent visit to Penn State with the Jonas Brothers — she dates Joe — the "Game of Thrones" superstar wore a Nittany Lions football jersey. (RELATED: These Are The Sexiest Photos Of 'Game Of Thrones' Star Emilia Clarke On The Internet)
Yes, Sansa Stark is a fan of Big Ten football or that's at least what I'm telling myself. (SLIDESHOW: These Women On Instagram Hate Wearing Clothes)
Sophie Turner doing shots at a Penn State bar while wearing a No. 7 Penn State Jersey is a great way to get me excited for the final season premiering next week. (photo via @joejonas) pic.twitter.com/f40G7XJ9al

— Mickey Boylan (@MickBoylan7) April 6, 2019
You know, I always knew Sansa was the smart one. I just knew it. There was always something about her that just rubbed me the right way.
Obviously, anything an actress does, I immediately just tie to the characters they play.
View this post on Instagram
Now, would it have been cooler if she rocked a Wisconsin jersey? Of course, but we can't have it all. I guess we'll just have to settle with her wearing a different Big Ten team's jersey, even if I kind of hate that program.
At least she's not wearing an SEC program's jersey. Puke. That makes me sick just thinking about it.
View this post on Instagram
Now, if you're a fan of "GoT" and PSU football, then you have to hope like hell Sansa wins. Can't have her go down. If the Stark woman dies, then it could be a sign of things to come for the Nittany Lions.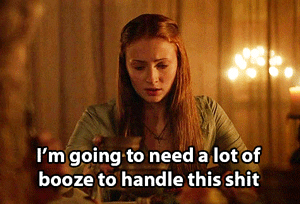 Tune in April 14 on HBO to watch the start of the season eight. It's going to be great.