Rami Malek is officially the villain in the next James Bond film.
According to the Hollywood Reporter Thursday morning, the producers and director Cary Joji Fukunaga revealed the star actor as the man Daniel Craig would be fighting against in the new film.
It was also believed we'd be getting the title today, but that didn't happen. THR reported that producer Michael G Wilson said the title "wasn't ready yet." (RELATED: Study Says James Bond Is A Raging Alcoholic. Here's How Often He Drinks In The Movies)
You can watch a short video from Malek, who is coming off a ton of success from "Bohemian Rhapsody," released this morning below.
View this post on Instagram
I know Malek is talented and he's menacing. No question about that at all. However, I'm not sure he's really cut out for a Bond villain.
I want my Bond villains to have a little edge in them. I want them to be like Sean Bean was in "Goldeneye" or Robert Davi in "License to Kill." Can Malek be that guy? I'm not sure.
What I do know for sure is the new movie better be damn good. Daniel Craig has done one hell of a job as the legendary spy.
He's not Sean Connery good, but he projects a lot of darkness as 007. I like that a lot, and I'll be sad to see him go. It'll be a true letdown if his final go as the character isn't awesome.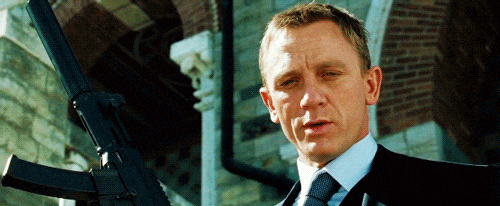 You can catch "James Bond 25" in theaters April 8, 2020. Let's hope Malek lives up to my insanely high expectations.