"Game of Thrones" came to an end Sunday night with the series finale, "The Iron Throne," and it was trash.
WARNING: THERE ARE GOING TO BE SPOILERS BELOW. DO NOT KEEP READING IF YOU AREN'T CAUGHT UP. CONSIDER YOURSELF WARNED.
I'm literally at a loss for words right now. I'm that frustrated and disappointed. After nearly a decade of buildup, the finale episode of "GoT" couldn't have been much worse. (RELATED: These Are The Sexiest Photos Of 'Game Of Thrones' Star Emilia Clarke On The Internet)
I wanted to like it. I really did. I wanted to come in here this morning and talk about how great the conclusion of the epic show was for all of us.
Fortunately for all of you, I get paid to tell the truth, and the truth of the matter is: The series finale was awful. After giving a rousing speech, Daenerys is just stabbed by Jon Snow while kissing him.
No security, no Grey Worm or anybody else was anywhere nearby. Dany starts laying game and Jon guts her and watches her bleed out. This was about 25 minutes into the episode, and then, she's pretty much never referenced again! (RELATED: Daenerys Turns Into The Mad Queen In 'Game Of Thrones' Episode 'The Bells')
After eight seasons, Daenerys is cut out of the finale about a third of the way through! Are you kidding me? Also, Drogon just flies off into the distance. So, Dany is dead and there's just a dragon on the loose? Makes total sense. Let's definitely not really ever reference that for the rest of the show.
It only got worse from there. Instead of killing Jon immediately, which is exactly what the Unsullied would have done in reality, they take him prisoner.
Tyrion, also a prisoner of the Unsullied, pleads with the Starks and everybody else to choose a new leader and end the cycle of violence.
In one of the worst writing decisions ever, Bran is elected the new king. Bran! The dude spent six episodes in a wheelchair staring off into the distance and ends up the leader of Westeros. Has anybody ever done less and achieved more?
I really don't think so.
Sansa becomes the queen in the newly independent north, Jon goes north with Tormund and Ghost, Arya goes off to sail the world after never fulfilling her death prophecy, and Tyrion becomes hand of the king. It was literally a happy ending for just about everybody.
If "Game of Thrones" were a sporting event, I would have been on my feet booing as loud as possible.
We had one death! One death, and it wasn't done well! Maybe I just need to take a step back, relax, breathe and evaluate the series in a little bit when emotions aren't running so high.
Right now, the finale episode of "Game of Thrones" was a gigantic disaster. I honestly can't remember the last time I was this disappointed.
The hit HBO show is supposed to be about darkness. The entire ending for every major character minus Daenerys was a happy one!
Is this "Game of Thrones" or a story for children?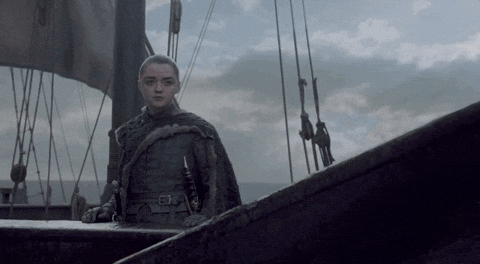 I hated it. I hated it so much. After all these years, I thought there was no way I'd be disappointed in the conclusion. Well, I was, and this honestly sucks.
P.S. I've never been more attracted to a fictional character in my life than when Dany was out there giving her speech after taking the throne. It was smoke show central and possibly the only bright spot of the entire episode.