The Michigan Wolverines recently shared an absurd graphic of Jim Harbaugh.
The team tweeted a photo Thursday of Harbaugh's accomplishments and this picture is straight comedy for college football fans. (RELATED: David Hookstead Is The True King In The North When It Comes To College Football)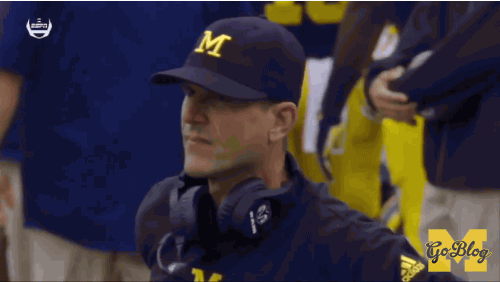 What are some of Harbaugh's accomplishments? Well, only a few of them have anything to do with coaching at Michigan, and they include the fact he's entering his sixth season, has nine 10-win seasons as a head coach and 149 total wins in college and in the NFL.
The rest are about his own playing career! Take a look at the absurd photo below.
The boss, by the numbers.@CoachJim4UM pic.twitter.com/VGfiI9hjht

— Michigan Football (@UMichFootball) July 2, 2020
It's almost like Jim Harbaugh hasn't accomplished anything noteworthy during his time with the Wolverines.
I guess the graphic would be a lot less impressive if you started putting stats like 0-5 against Ohio State; got blown out by Wisconsin in 2019; and has only one bowl win with the Wolverines.
You know you're not dominating as a coach when the school has to dive into your own playing career and NFL coaching career to dig up some impressive stats.
If Harbaugh was actually dominating with the Wolverines, then there'd be plenty of stats from his time in Ann Arbor.
Clearly, that's not the case at all. Sure, he's good for nine or 10 wins a season. He's also good to get his butt kicked every year by the Buckeyes.
You can set your watch to it.
As always, thanks for the laughs, Harbaugh! It will never get old watching him disappoint fans by not meeting the absurd expectations placed on him!