It has come to my attention that there are some haters and losers among us who would prefer that hot women don't be so hot while playing sports.
I'm referring, of course, to this week's New York Times column by Kurt Streeter, which sounds like the name of a douchey television anchor playing a secondary antagonist in a mediocre mid-2000's comedy film. Straight to television, perhaps. (RELATED: David Hookstead Is The True King In The North When It Comes To College Football)
Streeter wrote a piece titled "New Endorsements for College Athletes Resurface an Old Concern: Sex Sells," which goes after LSU gymnast Livvy Dunne for using her flawless looks to secure lucrative endorsement deals while she competes for the Tigers.
Dunne has millions of followers across social media platforms like Instagram and Tiktok. She's arguably America's most famous collegiate gymnast, and has secured brand deals from clothing companies to study helpers to fitness supplements.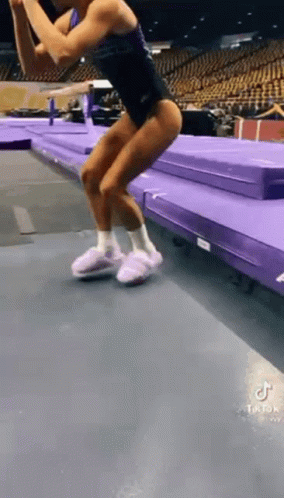 For some reason, Streeter considered this a "concern." Streeter doesn't like hot 20-year old college girls who post, for what it's worth, fairly tame pictures on Instagram showing off their figure in exchange for millions of dollars. He apparently isn't a red-blooded American male who sees hot blondes confidently flaunting their appearance and enjoys it like a normal person. Instead, he stews like a male feminist who got dragged to Hooters for his nephew's birthday party.
"But the new flood of money — and the way many female athletes are attaining it — troubles some who have fought for equitable treatment in women's sports and say that it rewards traditional feminine desirability over athletic excellence," he writes.
Scoops says nay. First of all, one could consider it sexist for Streeter to boil Dunne's value down to just her NIL (Name, Image and Likeness) endorsement deals. The young woman was a part of a national semifinalist team in 2021 and placed in the SEC championships on the uneven bars in 2022. She's an accomplished athlete first and foremost, you sicko. (RELATED: The NFL Makes A Sickening Decision. How Low Will The League Stoop?)
Secondly, weren't we told it's empowering for women to make money off of their beauty? Dunne is being excoriated for sharing cute outfits that show off her petite, toned physique, but the same feminists tell us that "sex work is real work" and selling your body on OnlyFans is something to be proud of. Fatherless activities are acceptable but becoming a powerful independent businesswoman is not. Make it make sense.
Rather, it seems the alternative Streeter would prefer is for Dunne to be poor and sexy, rather than rich and sexy. Before last year, college athletes weren't allowed to make money while playing for NCAA programs. Then came the allowance of NIL deals, meaning those student-athletes can now accept endorsements and sell products to make some extra cash on the side while they play their games for free.
Dunne would've had two options prior to NIL being legalized. She could either continue to pursue her dream to be a college athlete without making a dime, letting her social media fame and marketability waste away for no use, or she could quit her favorite sport to be allowed to cash in. Now she can do both. We here at the Daily Caller aren't of the belief that female athletes should have to make less money just because their sports are less popular, like Streeter.
To her credit, Dunne seems unbothered by the NYT article and the firestorm it started. She responded with an Instagram story post of herself in a gymnastics leotard, captioned "@nytime is this too much?"