Jon Snow is now the man favored to rule Westeros when "Game of Thrones" ends in a couple weeks.
Bran had originally been at the top of the odds, but we got a shift after the season eight premiere. Now, Jon Snow is at +225. (RELATED: These Are The Sexiest Photos Of 'Game Of Thrones' Star Emilia Clarke On The Internet)
Bran is at +275. Check out the full odds below.
#GameofThrones **SPOILER ALERT**

Updated odds to rule Westeros:

Jon Snow +225
Bran +275
Sansa +500
Daenerys +550
Gendry +650
Littlefinger +1250
The Night King +1500
Tyrion +1500
Arya +2000
Samwell +2000
Cersei +2500
Jon & Daenerys' baby +2500
Jamie +4000
Davos +7000
Varys +7000

— Odds Shark (@OddsShark) April 15, 2019
Given the fact not a ton of stuff happened in the first episode of the final season, I wonder what caused the bump for Jon Snow.
If I had to lob an educated guess, I'd say it's the fact he was so quickly told about his true roots and rightful claim to the Iron Throne. (RELATED: 'Game Of Thrones' Returns With Great Season 8 Premiere Episode 'Winterfell')
He also didn't seem to reject the idea that the throne was his to rule. Watch the moment Samwell broke the news below.
You can kind of tell that Jon seems to be debating in his mind if there's a move to be made, especially upon learning the fate Daenerys unleashed on Samwell's family.
Trouble might be brewing, my friends!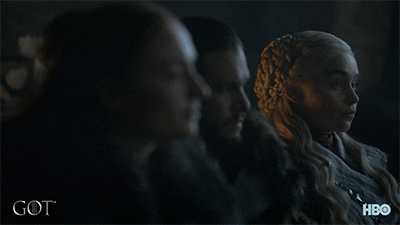 Other than that development, I'm not sure what could have caused any major shift in the odds. I do like that Littlefinger and a potential baby between Jon and Daenerys are both still in play.
If there's one thing we've learned from the hit HBO show, it's that we should always expect the unexpected. I'm not suggesting you bet either, but they're on the board for a reason.
Buckle up, folks. Things are only going to get crazier before they slow down. I can promise you that much.