Media Matters inexplicably attacks Fox News for using the term 'homosexual'
Media Matters, the website of choice for Fox News haters everywhere, attacked the cable news network on Monday for using the term "homosexual" in its programming — advancing the peculiar argument that the scientific term has a "pejorative connotation."
The online "media watchdog" contends that calling gay people "homosexual" is "a practice that's quickly falling out of favor with major news outlets due the term's often pejorative connotation and frequent use by opponents of LGBT equality." Fox News, they chide, "has yet to update its language when referring to gay and lesbian people."
Buttressing their argument? A weekend piece in the Fashion and Style section of the New York Times entitled "The Decline and Fall of the 'H' Word." In it, reporter Jeremy Peters likens the term to using "colored" to address black people and asserts that the word contains "the ring of disapproval and judgment."
That was all Media Matters needed to pounce, accusing Fox News of not getting the memo clearly received by the New York Times and other "responsible" journalistic outlets. Specifically singled out were hosts Sarah Palin and Megyn Kelly, although the blog post provided no specific instances of when either of them used the term.
But Fox News anchor Shannon Bream — who Media Matters described as "a pro-discrimination champion" — was caught in the act of using the "H-word" as part of a tweet promoting a news segment. That tweet, however, was over two years old.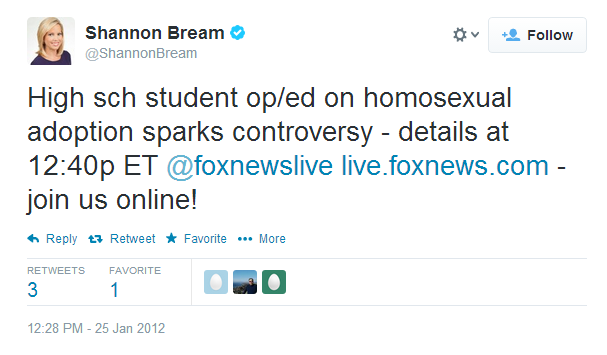 Other specific instances of the term's use on Fox News forced Media Matters to go all the way back to stories published in 2010. In fact, the only recent use of the word the group could find comes from a February 2014 segment of "The O'Reilly Factor," when Bill O'Reilly described "a punk rock band with homosexual overtones." Oh the humanity.
But an utter lack of evidence of the term's recent use — or of any indication that the word is anything other than innocuous — didn't stop Media Matters from accusing Fox News of using the term to "marginalize, pathologize, and and [sic] marginalize" homosexuals.
There, now we said it too. Your move, Media Matters.
Content created by The Daily Caller News Foundation is available without charge to any eligible news publisher that can provide a large audience. For licensing opportunities of our original content, please contact licensing@dailycallernewsfoundation.org.
Tags : fox news media matters