NBA legend Shaquille O'Neal recently had some wise words for the New Orleans Saints.
According to a Monday report from ESPN, the former Lakers superstar addressed the team Thursday and said, "Stay strong. Don't let the media divide you! Don't let social media divide you!" (RELATED: David Hookstead Is The True King In The North When It Comes To College Football)
The comments to the team come after quarterback Drew Brees said he found it to be disrespectful to stand for the anthem.
Highlight: @readdanwrite asks @drewbrees what the star NFL quarterback thinks about "players kneeling again when the NFL season starts."@drewbrees: "I will never agree with anybody disrespecting the flag of the United States of America or our country."

Full exchange: pic.twitter.com/MpCkFyOMed

— Yahoo Finance (@YahooFinance) June 3, 2020
The backlash was unlike anything I've seen before, and he issued two apologies in the aftermath of the situation.
Shaq's advice is 100% correct. The media has been hammering Drew Brees nonstop for the better part of a week at this point, and for what good reason?
The man just said he didn't agree with kneeling during the national anthem, which is a viewpoint and opinion shared by millions of Americans.
Yet the mob had to attack! They just had to attack!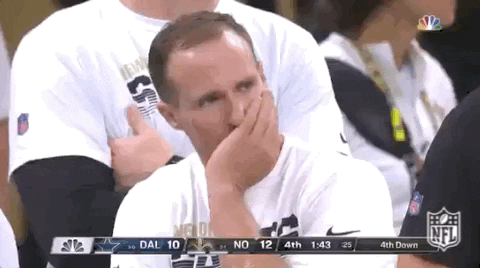 You think the people on TV give a damn about Drew Brees and his relationship with his teammates? Not a chance in hell.
They just want to milk this situation for everything it's worth. They will tear that team apart in a heartbeat if they think it benefits them and gets ratings and headlines.
The Saints need to close ranks and deal with any issues they might have internally. The media isn't their friend at all.
Look at what they did to Brees! They pummeled him into submission without hesitation. Tony Dungy was one of the few men who stepped forward and told people to chill the hell out.
"@drewbrees can't be afraid to say that and we can't be afraid to say 'ok I don't agree with you but let's talk about this'

We can't just say anytime something happens we don't agree with 'Hey I'm done with that and this person' that doesn't make sense"

~ @TonyDungy pic.twitter.com/pe0vYd5nzZ

— Pat McAfee (@PatMcAfeeShow) June 4, 2020
Don't let the media destroy the Saints! It's just not worth it to give in.