This is Cyber Monday Deals Week, the biggest online deals week of the year. Here at the Daily Dealer, we are diligently keeping track of the Internet's best bargains on this shopping occasion. So bookmark this page or the Daily Dealer homepage to keep track. Also head over to Amazon and our very own Daily Caller Shop to see highlighted deals.
For each of these products, we'll link to the original Daily Dealer article telling you about them, as well as to the specific product page.
Santoku Knife – $50+ off
J.A. HENCKELS INTERNATIONAL 31170-181 Classic Hollow Edge Santoku Knife, 7-inch, Black/Stainless Steel on sale for $39.95
Roomba 690 – $125 off
iRobot Roomba 690 Robot Vacuum with Wi-Fi Connectivity, Works with Alexa, Good for Pet Hair, Carpets, Hard Floors on sale for $249
Japanese Knife Set – 77 percent off original price
Damasukasu Japanese 3-Piece Master Chef Hanshu Knife Set on sale for $69.99
UltraBright Tactical Flashlights – Over 80 percent off this 2-pack
UltraBright 500-Lumen Tactical Military Flashlight: 2-Pack on sale for $14.99
iPhone Accessory Bundle – 73 percent off
The iPhone Accessory Bundle on sale for $34.99
"Bulletproof" Glasses – 11 percent off
BenShot "Bulletproof" Rocks Glass Gift Set on sale for $35.50
Whole Body Fitness Machine – $1800 off
Whole Body Vibration Fitness Machine on sale for $199.99
#1 Bestselling Personal Blender – 54 percent off
Nutri Ninja Blender with FreshVac Technology, 1100-Watt Auto-iQ Base, 2 Manual Speeds, and (2) Single-Serve FreshVac Cups with Lids (BL580), Dark Gray on sale for $59.95
Genetic Testing Kit – 40 percent off
AncestryDNA: Genetic Testing Ethnicity on sale for $59
Sous Vide Precision Cooker – $100 off
Anova Culinary Sous Vide Precision Cooker | WI-FI + Bluetooth | 900W | Anova App Included on sale for $99
Ring Security System –$80 off
Ring Alarm – Home Security System with optional 24/7 Professional Monitoring – No contracts – 8 piece kit on sale for $188.98
Personal Water Filter – Over half off
LifeStraw Personal Water Filter for Hiking, Camping, Travel, and Emergency Preparedness on sale for $11.99
Phillips Airfryer – $100 off
Philips HD9220/29, Black airfryer on sale for $99.99
Ring Video Doorbell 2 + FREE Echo Dot – $199
Ring Video Doorbell 2 with Echo Dot (3rd Gen) – Charcoal on sale for $139
Echo Dot (3rd gen) – On sale for just $30
All-new Echo Dot (3rd Gen) – Smart speaker with Alexa – Heather Gray on sale for $29.99
2-Piece Knife Set – Under $20 with code SCHQPG7Z
Homgeek 2-Piece Ultra Sharp Chef Knives,8 inch Chef Knife & 7 inch Santoku Knife, Germany Stainless Steel, Ergonomic Handle on sale for $18.75 with code SCHQPG7Z
SharkNinja Upright Vacuum – 47 percent off
Shark Navigator Light Upright Vacuum, Blue (NV105) on sale for $78.99
Cast Iron Skillet – 44 percent off
Lodge L8SK3 10-1/4-Inch Pre-Seasoned Skillet on sale for $14.88
8-Quart Instant Pot – $60 off
Instant Pot DUO80 8 Qt 7-in-1 Multi- Use Programmable Pressure Cooker, Slow Cooker, Rice Cooker, Steamer, Sauté, Yogurt Maker and Warmer on sale for $79.99
USB Wi-Fi Adapter – Just $13 with code T6VYGYAB
ANEWKODI USB Wifi Adapter USB 3.0 AC1200Mbps USB Wireless Adapter Dual Band 2.4GHz/5.8GHz 867Mbps 802.11ac/b/g/n Wireless Adapter Desktop/Laptop/PC, Support Soft AP Windows 10/8/8.1/7, Mac OS on sale for $12.99 with code T6VYGYAB
26800mAh USB PD Portable Charger with Quick Charge – 51 percent off with code D7UUGC5Y
[Upgraded] 26800mAh USB PD Portable Charger QC 3.0 Quick Charge Power Bank External Battery Nintendo Switch, iPhone Xs XR X 8, MacBook/New Type-C iPad Pro/MacBook Air Power Delivery Support (Black) on sale for $38.99 with code D7UUGC5Y
26800mAh Power Bank – 50 percent off with code XOOW7DND
26800mAh Power Bank Portable Charger USB Type C Battery Pack with 3 Input & 4 iSmart Output for MacBook Nintendo Switch iPhone iPad Nexus Samsung Huawei (Black) on sale for $29.95 with code XOOW7DND
Bluetooth Wireless Headphones – 62 percent off
True Wireless Fitness Bluetooth Headphones on sale for $44.99
Teeth Whitening System – 89 percent off
Nuovaglo 2-Step Teeth Whitening System on sale for $32.99
Noise-Cancelling Bluetooth Headphones – 53 percent off
Paww WaveSound 3 Noise-Cancelling Bluetooth Headphones on sale for $69.99
Echo Dot – Free with Fire TV Stick
Fire TV Stick bundle with Echo Dot (2nd Gen) – Black on sale for $39.98
1080p Dash Cam – 83 percent off
Black Box 1080p Dash Cam on sale for $24.99
Sonic Toothbrush – $200 off
Platinum Sonic Toothbrush & UV Sanitizing Charging Base With 2 Bonus Brush Heads (Silver) on sale for $49.99
Gerber Ultralight Knife – 50 percent off
Gerber LST Ultralight Knife, Fine Edge [46050] on sale for $9.99
External Battery Pack –55 percent off with code Y6KNLNIQ
10000mAh Power Bank External Battery Portable Charger Pack with Built-in Type C and Micro USB Cable for iPhone Xs/XS Max/X 8 Samsung Huawei Android Cell Phones (Black) on sale for $16.24 with code Y6KNLNIQ
Power Inverters – Both 400W and 150W on sale with code TX26XWCG
VOLTCUBE 400W Power Inverter, 12V DC to 110V AC Car Adapter with Twin 2.4A USB Ports and Two Independent AC Outlets (Blue) on sale for $19.91 with code TX26XWCG
Back And Neck Massagers – Up to 30 percent off with these discount codes
Naipo Back and Neck Massager Shiatsu Massage Chair for Seat Cushion Pad Full Body – 3D Deep Kneading Vibration Heat Relieve Muscle Pain – Home Office Car Use on sale for $90.99 with code I8FH25AE
Indoor Exercise Bike – $60 off with code 8UUG2CXI
MaxKare Indoor Cycle Bike, Magnetic Cycling Trainer Exercise Bike w/ 44 lb Flywheel, Belt Drive and LCD Monitor on sale for $179.99 with code 8UUG2CXI
Retro Gaming Console – 85 percent off
Retro Gaming Console with 600+ Classic Games on sale for $44.99
Stovetop Oven Grill Pan – Take an extra 20 percent off with the code
MasterPan Stovetop Oven Grill Pan With Heat-In Steam-Out Lid on sale for $59
Bomber Jacket – $110 off, plus Daily Caller Shop Black Friday discount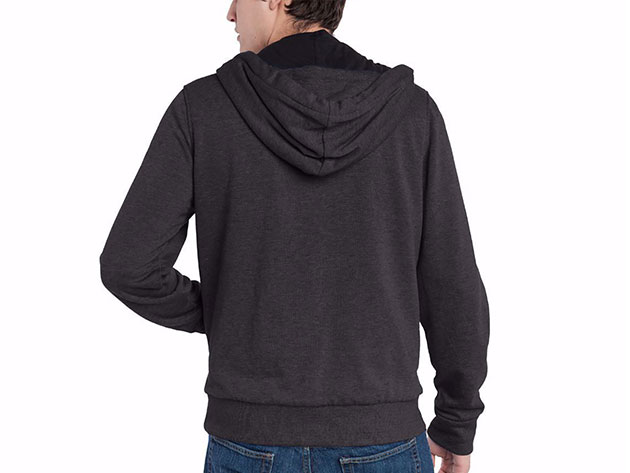 BauBax Men's Bomber Jacket on sale for $69
Autopilot Robotic Vacuum – Over $130 off with code EORMJFRA
360 Robotic Vacuum Cleaner with Laser Navigating, Multiple-Floor Mapping, Sweep, Mop, Auto-Recharging, HEPA Filter, App Control for Hard Surface Floors and Thin Carpets on sale for $321.99 with code EORMJFRA
Screw Driving Set – 50 percent off
DEWALT DWA2T40IR IMPACT READY FlexTorq Screw Driving Set, 40-Piece on sale for $19.99
Electric Knife – 51 percent off
Cuisinart CEK-30 Electric Knife, Black on sale for $26.95
Portable, Waterproof Speaker – 33 percent off
JBL Charge 3 JBLCHARGE3BLKAM Waterproof Portable Bluetooth Speaker on sale for $99.95
36-Inch Axe – 45 percent off
Fiskars x27 Super Splitting Axe 36 Inch, 378841-1002 on sale for $38.15
Smart Wi-Fi Plug – 58 percent off
TP-Link HS100 Kasa WiFi Smart Plug, No Hub Required, Works with Alexa Echo & Google Assistant on sale for $16.99
Vacuum Insulated Tumbler – Under $14
Atlin Tumbler [30 oz. Double Wall Stainless Steel Vacuum Insulation] Travel Mug [Crystal Clear Lid] Water Coffee Cup [Straw Included] on sale for $13.79
Oven Thermometer – Under $6
Rubbermaid Commercial Products Stainless Steel Oven Monitoring Thermometer on sale for $5.40
Meat Thermometer – Under $13
ThermoPro TP03A Digital Food Cooking Thermometer Instant Read Meat Thermometer for Kitchen BBQ Grill Smoker on sale for $12.49
Fleece Jacket – Just $15 with code CVVZZ7LS
CAMEL CROWN Men Full Zip Fleece Jackets with Pockets Soft Polar Fleece Coat Jacket for Fall Winter Outdoor on sale for $14.99 with code CVVZZ7LS
Tucker Mugs – 14 percent off at The Daily Caller Shop
Tucker Face Daily Caller Mug on sale for $29.99
Have a suggestion for a cool product or great deal that you think Daily Caller readers need to know about? Email the Daily Dealer at dealer@dailycaller.com.
Follow The Daily Dealer on Twitter and Facebook
The Daily Caller is devoted to showing you things that you'll like or find interesting. We do have partnerships with affiliates, so The Daily Caller may get a small share of the revenue from any purchase.